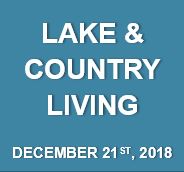 What's Happening at the Lake…
hi all!
Here is your weekly dose of Reyenga Team insights, a list of things we are thinking about…
Sit Back & Relax Well, by this time next week, Christmas will have come and gone, folks! This weekend is your last shot to get into the spirit! Read This Pincalled Christmas Movie Checklist and count your blessings!! We hope everyone has a safe & splendid holiday!
For tips, tricks & random tid-bits these, follow our: Lake Geneva Homes Pinterest Board
What's going ON?
As always, THANK YOUWalworth Co Visitors Event Calendar, for being the best source of info on our local events!
See Santa:

Biggest Hits this Holiday Season:

The

Santa Cruise

has tours nightly starting at 4:30 pm! Embark on a magical Christmas boat cruise to Santa's North Pole hideaway, departing from Winter Harbor (located at 1 Liechty Dr) in Williams Bay!

The

Santa Cause Tree Festival

at Gage Marina's Wood Boat Center, in Williams Bay, is open nightly from 4:00 to 9:00 pm, thru next Friday. "Santa Cause" is a super charity, which supports existing charities in Walworth County. Get your raffle tickets to enter any of the Twelve Charities of Christmas raffle boxes, for a chance to win the grand prize and other prizes (last year's prizes included a trip to Hawaii, Florida, a moped, large screen TV, and more!)!!
Housing Trends December 2018 eNewsletter: Check out our most current Housing Trends eNewsletter. This eNewsletter is specially designed for you, with national and local housing information that you may find useful whether you're in the market for a home, thinking about selling your home, or just interested in homeowner issues in general.
MLS Market Updates: See for yourself how our current local market compares to our numbers last year on our website, with the latest data from the Metro-Milwaukee Listing Service! Updated every 15th of the month*
*New & Sold Properties in Walworth Co: Exclusively featured on YourLakeGeneva.com, are the most up-to-date, weekly Current Market Updates! This includes the last 7 days' worth of just listed & just sold real estate in Walworth County, giving you insider details about our local market!
Have a great weekend everyone!! If you have any other questions, want to talk about the market, would like us to include a specific event, or anything at all, just let us know! Give us some feedback on this blog, too! Call or text Joel (262-325-9867), Kim (262-903-9721), reply to this e-mail, or send us a Tweet.
Kim & Joel
Kim & Joel Reyenga and their team offer extensive experience in social media, web, and print & direct mail marketing. The Reyenga Team's systematic approach to service, sales, and marketing will provide you with the maximum exposure needed for a triumphant home or condo transaction. Starting with a customized plan for both buyers and sellers of lakefronts, condos, town & country homes and strategies designed with your success in mind, the Reyenga Team has been helping folks like yourself for over 32 years.
Want your free automated home Value in 15 secs?
Click the purple link for the most recent statistical analysis on your home's current market value.
Every house sold or listed in your neighborhood does impact how much your home is worth, like it or not!
Kim & Joel Reyenga




Broker Associates




Keefe Real Estate




262-325-9867




Licensed In: WI




License #: 90-37923




Contact Us