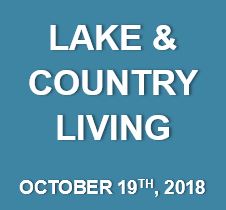 What's Happening at the Lake…
hi all!
Here is your weekly dose of Reyenga Team insights, a list of things we are thinking about…
Smells like fall!Now that the windows are closed, and the heat is on, fall fragrances linger longer. Read This Pincalled 10 Easy DIY Natural Fall Scents to keep your home filled with warm, cozy seasonal smells!
For tips, tricks & random tid-bits these, follow our: Lake Geneva Homes Pinterest Board
What's going ON?
As always, THANK YOUWalworth Co Visitors Event Calendar, for being the best source of info on our local events!
Boo in the Bay

's

Singing Pumpkins

will play again tonight, Friday, October 19th from 6:30 to 8:30 pm, at Edgewater Park in Williams Bay!
The Town of Delavan's

Oktoberfest

is tomorrow, Saturday, October 20th from 4:00 pm to 8:00 pm at Community Park on Delavan Lake!
The City of Elkhorn's 13th Annual

Oktoberfest

will be held tomorrow, Saturday, October 20th from 9:00 am to 5:00 pm at Veterans & Pocket Parks, as well as throughout downtown, Elkhorn.

Miles for SMILES

, a unique event to benefit the clients of SMILES (Special Methods in Learning Equine Skills, Inc.) is scheduled for tomorrow, Saturday, October 20th from 9:00 am to 1:00 pm at their facility in Darien! This special event includes a 5K Fun Run/Walk with "family friendly" Trick or Treat Stations and costume competitions.

The Belfry Theater has Fortunate Son: A Tribute to Credence Clearwater Revival on stage this weekend!

Coming up:

Mark your calendars now for Big Brothers Big Sisters of South Central Wisconsin's event

Pour Your Art Out: Fine Art Gala

from 6:00 to 9:00 pm Saturday, November 10th at Evergreen Country Club in Elkhorn! Secure your spot by next Saturday, October 20th in celebration & support of our local youth!
Head to Chapel on the Hill, in Lake Geneva, next Saturday, October 27th from 8:00 to 10:30 am for

Sausage Gravy & Biscuit Breakfast

benefiting our local Spirit of Hope Men's Homeless Shelter!

For all of Walworth County's

Fall Seasons Fantastic Festivities

See Our Blog!

For all of Walworth County's

Trick-or-Treat

Dates/Times ALSO See Our Blog! *Updated*
MLS Market Updates: See for yourself how our current local market compares to our numbers last year on our website, with the latest data from the Metro-Milwaukee Listing Service!
*New & Sold Properties in Walworth Co: Exclusively featured on YourLakeGeneva.com, are the most up-to-date, weekly Current Market Updates! This includes the last 7 days' worth of just listed & just sold real estate in Walworth County, giving you insider details about our local market!
Have a great weekend everyone!! If you have any other questions, want to talk about the market, would like us to include a specific event, or anything at all, just let us know! Give us some feedback on this blog, too! Call or text Joel (262-325-9867), Kim (262-903-9721), reply to this e-mail, or send us a Tweet.
Kim & Joel
Kim & Joel Reyenga and their team offer extensive experience in social media, web, and print & direct mail marketing. The Reyenga Team's systematic approach to service, sales, and marketing will provide you with the maximum exposure needed for a triumphant home or condo transaction. Starting with a customized plan for both buyers and sellers of lakefronts, condos, town & country homes and strategies designed with your success in mind, the Reyenga Team has been helping folks like yourself for over 32 years.
Want your free automated home Value in 15 secs?
Click the purple link for the most recent statistical analysis on your home's current market value.
Every house sold or listed in your neighborhood does impact how much your home is worth, like it or not!
Kim & Joel Reyenga




Broker Associates




Keefe Real Estate




262-325-9867




Licensed In: WI




License #: 90-37923




Contact U